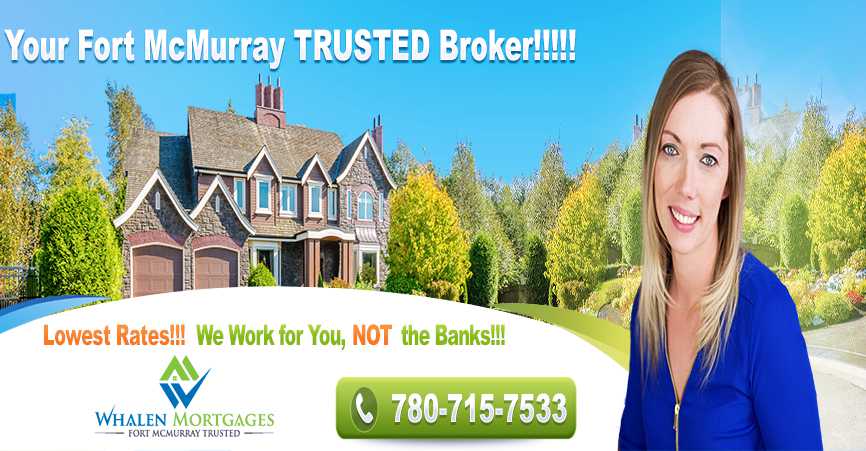 5 Year Fixed Fort McMurray Lowest Mortgage Rates
The five year fixed mortgage is the most popular loan in the Fort McMurray home market. About two thirds of all Canadian mortgage holders have a five year fixed term mortgage. We want to take the time to explain both the pros and cons of this mortgage product.
This mortgage is fixed for five years and the interest rate is based on the five year government bond yield. It balances predictable payments with the ability to refinance later if interest rates drop in the future. The five year fixed rate mortgage forces you to meet its standards for approval even if you choose a mortgage with a lower interest rate or shorter loan term or amortization.
Don't confuse the five year mortgage with a five year amortization period. The typical mortgage has a 25 year amortization period; that's how long it takes to pay off the mortgage with the current payment schedule. Refinancing your mortgage when the five year mortgage renews may or may not change this, depending on whether you make a lump sum to pay down the loan balance or stretch out the loan to get a lower monthly payment.
The Stats on the Fort McMurray Mortgage Market
We've already said that the five year fixed rate mortgage represents two thirds of the mortgage market. Mortgages of one to ten years are available, but five year terms balance risk for borrowers and lenders alike. About 8 percent of mortgages have terms over 5 years. About a quarter of mortgages have shorter terms. Six percent of them have a term of one year or less. Twenty percent have a term of one to four years. We can assume that many of these people plan on refinancing when their credit improves or expect interest rates to fall very soon.
Fixed rate mortgages account for two thirds of all mortgages. Fixed rate mortgages are most common for young borrowers. Older people usually are more likely to choose variable rate mortgages.
How Do You Compare 5 Year Fixed Rate Mortgages?
The simplest way to compare 5 year fixed rate mortgages is by comparing the interest rates. Don't make the mistake of comparing the fixed rate mortgage to the low teaser rates of variable rate loans that can skyrocket in the future. Note that fees are required, as well, though these tend to be lower for variable rate mortgages because lenders know they can profit from high interest rates. You can compare mortgages based on the long-term fees, too, like prepayment penalties. Consult with a Fort McMurray mortgage broker to find the best overall deal. We can help explain each lender and banks fixed mortgage rates and how penalties at lenders and banks are calculated. Big banks hold higher penalties if you pay out a fixed mortgage early due to the posted rates they use in calculating the interest rate differential used for the penalty calculation. Call us today so we can inform you of the difference between lenders such as Mcap, First National or Street compared to the big banks.
What drives changes in 5-year fixed mortgage rates?
The average 5 year fixed rate mortgage moves in tandem with the five year Canadian bond yield plus a spread. Bond yields themselves are based on the economy. This is affected by everything from employment rates to exports. When bond yields rise, banks have to raise the interest rate they charge consumers while having sufficient margin to earn a profit and pay for administrative costs. When bond rates fall, banks drop interest rates charged on mortgages. Check out the current Canadian Bond rates https://ca.investing.com/rates-bonds/canada-5-year-bond-yield