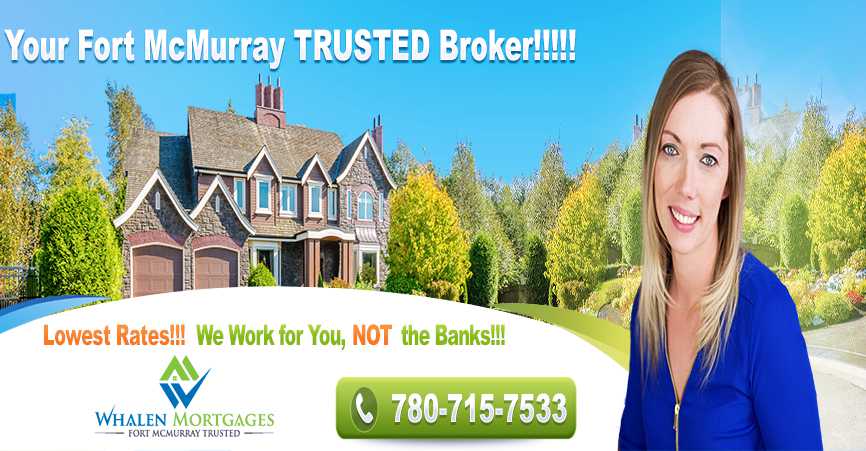 Fort McMurray Mortgage Lenders / Banks!
Whalen Mortgages is dedicated to bringing you current mortgage interest rates and mortgage products from all the mortgage lenders Fort McMurray has to offer. We deal directly with the lenders on your behalf and will find you the lowest mortgage rates in Fort McMurray on the best mortgage products currently offered. We have the top lenders we can use throughout Canada. If you are buying a home anywhere in Fort McMurray and want to get the best mortgage rate give me a call today! Your local Fort McMurray Mortgage Broker Jodi Whalen 780-715-7533.
We shop our rates and products everywhere from the major lending institutions such as the chartered banks, trust companies, and financial corporations, right down to the private Canadian lenders. As a Fort McMurray Mortgage Broker I am aware of all the work premiums provided and housing programs employers provide in Fort McMurray and other locations. All the lenders including banks in Fort McMurray compete on mortgage rates so they can obtain our clients service. They have to offer the lowest rates upfront or we simply will not send our business to them.
I was raised in Fort McMurray so understand the demographics and market in the area. The lenders we work with also have a good understanding of Fort McMurray and different pay structures and incentives offered only in Fort McMurray. As your Fort McMurray Mortgage Specialist I will make sure to get you approved quickly with the best rate possible.
I am a problem solver and stop at nothing to get a deal approved. I understand the importance of getting your new home and will fight for the approval as if it were my home. I put my heart into the mortgages and work really diligently with the lender to ensure they fully understand the deal. In lending and mortgages no 2 deals are the same and sometimes it is how the deal is packaged and explained to the lender. It is important to ask the right questions to make sure we fully understand your situation to allow us to explain and mitigate any risks to make sure we get your approval. This communication is a vital part of the mortgage approval process. I will ensure this does not happen, I will fight for your mortgage and new home. I will make sure the lender fully understands every aspect of the deal to get a fast approval. We are your top Fort McMurray mortgage brokers who work day and night to service our clients. We are your loyal Fort McMurray mortgage specialists with a team of experienced mortgage brokers in Fort McMurray to help get your mortgage approved. Remember we work for you Not the Banks! When the Banks say No we say Yes!
Should you call Fort McMurray Mortgage Brokers today to get your new home or renew your existing Fort McMurray Mortgage?  Let us do the negotiating for you free of charge. Whalen Mortgages promise we will get you the lowest mortgage rate in Fort McMurray.
Whether you want to purchase or refinance a home in Fort McMurray, or just get some extra cash, Whalen Mortgages is your Fort McMurray Mortgage solution. Get started today and get Approved or Pre-approved now!