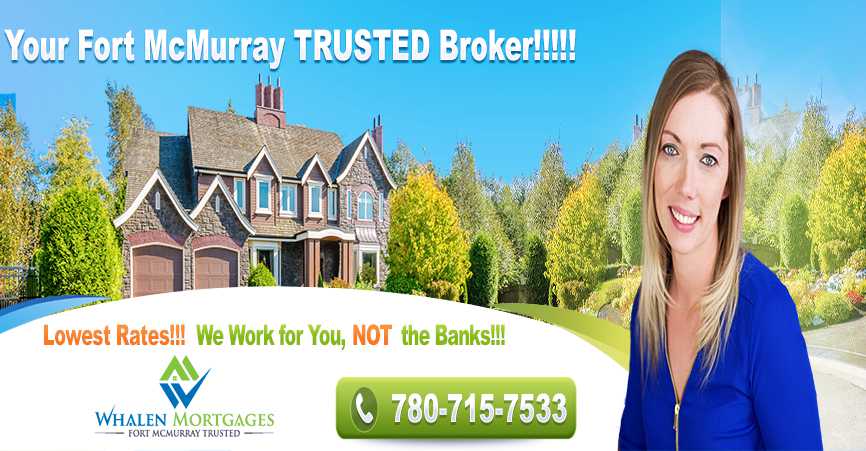 Fort McMurray Mortgage Rates
| | | |
| --- | --- | --- |
| | Term | |
| | 1 Year Fixed | 6.04% |
| | 2 Year Fixed | 5.20% |
| | 3 Year Fixed | 1.10% |
| | 4 Year Fixed | 4.89% |
| | 5 Year Fixed | 4.49% |
| | 10 Year Fixed | 5.84% |
| | Variable Rate | 5.70% |
Rates are subject to change without notice as the industry fluctuates.
Whalen Mortgages has the lowest mortgage rates in Fort McMurray. We have partnered with the top lender and banks in Fort McMurray offering our clients the best mortgage rates available in Fort McMurray. We are your trusted local Fort McMurray mortgage brokers. We strive for excellence and work around the clock to service our clients. We are always available anytime you need us, just reach out and within 5 minutes we will call you back if we miss your call. We believe in transparency and clear communication during the mortgage transaction you will always be updated and never caught with any surprises. We will explain all the lenders and banks we have available and the products they have along with the perks of each lender and the downfalls if they have any and let you pick a lender that fits your needs. Some lenders have low rates however they have restrictions to the mortgage or big penalties if you break your mortgage early. I will make sure you are never put with a lender without understanding the mortgage term and conditions.
Fort McMurray is a very special market in many ways including the different work schedules and different income clients earn and it is very important that the lender understands the type of income and work derived in Fort McMurray. All the lenders and banks we work with are very knowledgeable of this type of work schedule and income therefor they are able to easily approve your mortgage. It is also important to note the marketability of some properties and the market in Fort McMurray is unique and very important the lender is familiar with this market and the variables to this market. Some lenders have backed away from lending in Fort McMurray over the years and some just recently opened the lending back up in Fort McMurray.  Whalen Mortgages is up to date on all the changes with lenders that way we can offer our clients the best options available to them.
Whalen Mortgages is your trusted Fort McMurray mortgage brokerage with the lowest mortgage rates in Fort McMurray. Remember we work for you not the banks! When the banks say NO we say YES!! Give us a call today to get the lowest mortgage rate in Fort McMurray. We want to get you the best mortgage rate in Fort McMurray!  Our team at Whalen Mortgages is always available to answer any of your questions. We can lock your rate in for 120 days at most lenders and banks we even have one lender we can hold the rate for a year, however they hold higher rates but this might be a solution if you are getting a new home built and when the home is ready if there are lower rates we simply get you the lower rate. We make sure to take care of your needs allowing you to enjoy the home buying process. We take on all the paperwork behind the scenes and package your mortgage to ensure we are not only getting you approved but at the lowest mortgage rate on your next Fort McMurray home. Give us a call today to get started or apply online.