Trusted Fort McMurray Mortgage Broker
20 Minute Pre-Approvals – Call Now
First Time Home Buyers?
Looking to purchase a home in Fort McMurray and need to get pre-approved?  We can have you pre-approved in less then fifteen minutes. We can have you out house shopping before you know it!  We are your Trusted Fort McMurray mortgage experts. Available anytime you need us to answer any questions. We have a team of experienced mortgage brokers in Fort McMurray to help with all your mortgage questions. We can lock in a low rate for 120 days while you are house shopping. We have the top industry members to help you with all aspects regarding your new home purchase in Fort McMurray. We know the top lawyers, home inspectors, home insurance providers and realtors in Fort McMurray. You can feel safe knowing Whalen Mortgages can help you with all your first time home buyer questions and help you navigate through such an exciting experience. Buying a home should be exciting and we help make sure it is!
Fort McMurray Mortgage Refinance?
Looking to refinance your Fort McMurray mortgage for lower rates? Are you simply looking to extend your amortization to help lower your payments?  Are you looking to payout current unsecured debt or get a home equity line of credit? We have multiple lenders all competing on rates, we can make sure we get you the best mortgage rate on your mortgage refinance in Fort McMurray. We understand mortgages and the lenders with the lowest mortgage rates to help you get the best rate and terms on your Fort McMurray mortgage refinance.  We can get you the best mortgage rate on your Fort McMurray mortgage or mortgage refinance, call us today! Whalen Mortgages is your go to Fort McMurray Mortgage Brokers to get you the lowest mortgage rate on your next mortgage refinance in Fort McMurray call us 780-715-7533 to get started. 
Fort McMurray Mortgage Renewal?
Is your Fort McMurray mortgage up for renewal? Do not just sign your banks first offer, let us help you get the best mortgage rate in Fort McMurray! We have multiple lenders we have partnered with to make sure we are getting you the best mortgage rates Fort McMurray has to offer on your Fort McMurray mortgage renewal. And the best part is this does not cost you anything. When your mortgage has come up for renewal you are able to change lenders with no penalty and the fee to transfer is paid by the lender. We are your top Mortgage Brokers in Fort McMurray with highly experienced team of mortgage specialists to help walk you through the process. Saving on your mortgage rate can be substantial over a five year term. We can transfer your Fort McMurray mortgage on renewal to a new lender and save you thousands over the term. 

We offer preferred mortgages and rates from these lenders and more!


Your Trusted Fort McMurray Mortgage Broker
Start with a pre-approval. Continue with looking at homes with confidence. Then once you find the perfect home we seamlessly get your mortgage on the perfect home approved.
Top Service from Award Winning Fort McMurray Mortgage Brokers at Whalen Mortgages! Call our team today to get started.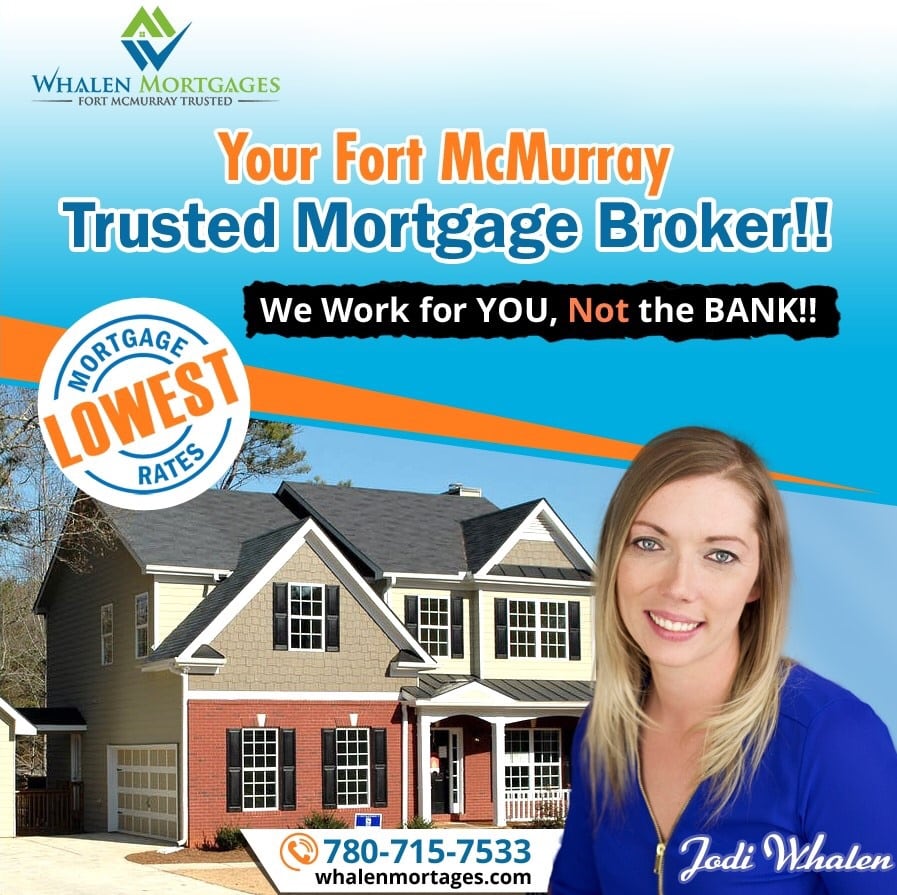 Welcome to Whalen Mortgages, a local Fort McMurray Mortgage solution. I work for you, not the banks!
Using me as your Trusted Fort McMurray Mortgage Broker is a free service to ensure you are getting the best rate on your mortgage. I am paid by the bank so there is no fee to you. No more waiting for long appointments with the banks, to get a decline or a higher rate then we can get you. We help you with the financing making buying a home super easy.
Are you looking to refinance your home, renew your mortgage or purchase a new home? If so I will shop to get you the best rates and find a lender that works for you. Lenders all have different products and qualifying policies, my job is to get you approved at the lowest mortgage rate.
Renting in Fort McMurray is expensive with the average house rental $2800 monthly. You can own a home worth $600,000 and pay the exact same amount! The difference is with owning a home in 5 years you will have $100,000 paid down on the mortgage and have that equity. We have the top lenders including Mcap and Street along with many others listed above. Let us help get you the home of your dreams today and start building your equity not your landlords.

I believe in explaining the lender and products to the clients with complete transparency. There are lenders who offer low rates however it comes with big penalties should you pay out your mortgage early, products that do not allow you to port your mortgage to a new home. I strongly believe in informing the client of the perks and downfalls of the products and rates offered. Certain lenders penalties on a $500,000 dollar home if you break your mortgage early can hold a penalty of $15,000 compared to a $4,000 penalty at other lenders. We will advise you of the lender rates and products and you pick the lender right for you. A lender you pick after understanding the pros and cons of the lenders. Informed decisions always result in the best outcome. Something that works for you! We help simplify buying a home and take out the mortgage jargon so you can understand exactly what terms come with your mortgage, what pre-payment privileges the lenders offer and what the penalty would be if you sold early, is the mortgage portable? If you are selling a home and buying a new home does the lender allow bridge financing if you require it? We help make sure you are covered and understand all the mortgage terms and product. There is more then rate when it comes to getting a mortgage our top underwriters help make sure you are getting the mortgage you want so you never get caught with big penalties if you sell early. 
I RUN MY BUSINESS OFF REFERRALS AND I USUALLY END UP ESTABLISHING FRIENDSHIPS WITH MY CLIENTS. I FIND WORKING WITH HONESTY, TRANSPARENCY AND KINDNESS GETS ANYONE AHEAD IN LIFE. THIS IS HOW I OPERATE THE FOUNDATION OF MY BUSINESS AND THIS ALSO APPLIES TO MY PERSONAL LIFE.
Working with me you will feel confident in the mortgage and lender you choose. Buying a house and getting a mortgage is one of the biggest financial investments you will make. I promise to make the experience painless and exciting and  ensure you are getting the lowest mortgage rate with the best terms. We work evenings and weekends also to fit your schedule. We have the top mortgage brokers in Fort McMurray and our raving clients reviews shows this on google. 
There is no mortgage I will not fight to get approved, I am a problem solver and this skill helps in this career. I stop at nothing and exhaust all options. I will help prepare you for home ownership and give financial coaching and advice to get you where you need to be to purchase a home and as quickly as possible. I will find different solutions such as paying off the smallest loan which holds the highest monthly payment to allow you to qualify for that house you always wanted. Let me do the work for your mortgage and get you exactly what you want. Our team of dedicated underwriters has the skill and service to help you not only get approved but to get approved at the lowest mortgage rate in Fort McMurray. We work around your schedule we understand the high work demands of Fort McMurray residents and pledge to be available during every step of the way for your new home purchase or refinance on your Fort McMurray mortgage. Call your top mortgage brokers at Whalen Mortgages today to see what you are pre-approved to spend on a new home. 
What perks come with using a Local Fort McMurray Mortgage Broker?
Living 36 years in Fort McMurray has given me a great deal of knowledge and understanding of the Real Estate Market. I have seen Fort McMurray grow substantially and watched the market follow. I am informed on all the versatile work demands that are in this market and the lenders we use are also aware of the work demands and overtime in Fort McMurray. I am a local Mortgage Broker, born and raised in the beautiful community of Fort McMurray.  I can do Mortgages in Fort McMurray, Anzac, Conklin, Saprea Creek and Draper Road. I understand the demographics and acreage mortgages and can help you with any questions you may have regarding certain amenities offered in each area. I understand properties that have septic and holding tanks and we can get your mortgage approved. I get clients mortgages outside of Fort McMurray as they continue to work in Fort McMurray and commute, we can get you a mortgage anywhere throughout Canada. 
Are there Zero Down Payment Mortgages?
There are no longer zero down mortgages however there is a flex down where you have ability to use your own line of credit for the down payment but restrictions apply. Cash back mortgage are still around however you need to come up with the down payment to qualify and the mortgage rates are higher. A gift from an immediate family member is another way to come up with the down payment for your new home purchase. We can not only help you get approved for a mortgage we can help you plan for your down payment so you can get in your home quickly.
First time home buyer?
As a first time home buyer you have the ability to access your RRSP for down payment without being taxed on them. Ask your RRSP investor for details. If you contribute money into your RRSP you get a tax break and nice refund. Then you can access that money for your first time home buyer down payment up to $35,000 per applicant. This can be used again if you sell your house and pay back the RRSP's and do not own a home for 3 years. This is a great way to get your down payment saved and take advantage of the tax savings allowing you to get a refund from income tax if you over paid allowing you to have more money for your down payment.

If I want to buy a rental what should I know?
20% down payment is required for a rental property. Less then 20% down payment requires mortgage default insurance with CMHC or Genworth and they will not insure rental properties. A rental is an income property and requires a minimum of 20% down payment. If you are planning to purchase a rental property you will need a minimum of 20% down payment to qualify. We can help you with your rental portfolio getting your mortgage approved on your next rental property in Fort McMurray at the lowest mortgage rate. We work with multiple lenders to make sure we are getting you the lowest mortgage rate on your next rental purchase in Fort McMurray. 
I want to buy a second home?
You may want to buy a vacation home and you can with 10% down. You may want to purchase another house for a family member and can with 5% down as long as they occupy the residence as a primary residence. If you want to convert your current home into a rental and purchase a new home you can do this with as little as five percent down payment and we can use the rental income to wash away your current debt from the mortgage allowing you to qualify for your new home. Regardless if you want to upgrade your current home because your family is growing or you want to downgrade your home because your kids have moved out we can convert your current home into a rental and use a great rental offset allowing you to qualify for a new mortgage, something that works for you. Call us today to get started. 

This is not my first home, how much down payment will I need?
As a primary residence you only need 5% down payment regardless if it is not your first home purchase. If your new home you are buying is a second home you will need 10% down payment. If you are wanting to put 5% down payment on a new home it needs to be your primary home to qualify with as little as 5% down payment. This also works when buying a home for a family member and keeping your existing primary residence.
I have a house and want to turn it into a rental, what are my options?
If you are turning your existing house into a rental and buying a new house to occupy as your primary residence you can do so with as little as 5% down. We can us rental offset options to wash away the debt of your current mortgage and home you are turning into a rental and allow you to purchase your new home you will occupy.
Do you work with lenders that support housing programs/incentives?
I understand all the different employment incentives from the employers and know the lenders that support these programs.
Some of the housing programs include but are not limited to:
Nexen Housing Program
Suncor Housing Program
Wood Buffalo Housing Program
Many employers give living allowance, mortgage subsidy or down payment for their employees to stay as a resident in Fort McMurray. I am aware of these programs and all the steps required to get the mortgage complete. I can get this done with ease and make it very quick and pain free. I am aware of bonuses, shift differentials, driving allowance and built in overtime that come with certain employers. I have lenders that support these programs and have underwriters that have seen Fort McMurray deals so much they support all the different types of income earned in this market.

Why should I use a Fort McMurray Mortgage Broker?
Mortgage Brokers are independent from the bank and use multiple lenders to get the best interest rate for your Mortgage. I will keep you informed on the lender products and rates and if there are any restrictions. Getting a mortgage is one of the biggest investments you will make and I thrive in helping to ensure that you are getting the best mortgage to fit your needs. Canada's mortgage market has grown and changed significantly and continues to do so which results in constant change in mortgage requirements and the options available. Canadian mortgage lenders have many mortgage products to fit different client's needs. I can do mortgages anywhere in Canada and often help clients buy homes outside of Fort McMurray. As a Trusted Fort McMurray Mortgage Broker I understand how those products apply in our unique market where overtime, bonuses, housing allowance and shift differential income are common. As a Mortgage Agent, I understand each mortgage is unique and will keep on top of all the changes to ensure I find a mortgage that fits your needs. If you want to reach out to discuss your mortgage call one of our team members at Fort McMurray Whalen Mortgages today! We will explain all the different
mortgage lenders
and
mortgage products
they offer including fixed and variable rate mortgages. I am always available and work around my client's schedule. No waiting for appointments or approvals. We can go over options for a home you love that needs some cosmetic work a home improvement mortgage in Fort McMurray. Let me get you pre-approved ASAP. My clients are my top priority. Remember I work for you, not the Banks! I want to tell you congratulations the house of your dreams is yours, this is why I love my job. Give me a call to discuss your mortgage needs or ask any questions, we are always here to help our clients. Are you looking to purchase in another area? We have a team of mortgage brokers in Grande Prairie click
here
to see your options.
Trusted Professionals
Looking to buy a new home and need the right Fort McMurray home inspector. I recommend Eddie Dicks for this service with years of experience he will find any problems the home may have.
Fort McMurray Home Inspector Canadian Residential Inspection Services – Eddie Dicks Web: https://www.canadianresidential.com/inspector/Eddie_Dicks Tel: 780-714-7654
Need to get your income tax done for self employed or just personal income tax, call Bazylo and Dunn today to get the help you need from a trusted Fort McMurray Accountant firm.
Bazylo and Dunn Chartered Accountants Web : https://www.bazyloanddunn.ca/ Tel: 780-743-0403

We thought buying a house wasn't going be an option for a few more years, however with the knowledge by Jodi we were in our own home within a few months.
Jodi is delightful and her service was excellent. We can not thank her enough. She is highly recommended by us to anyone looking for an amazing mortgage broker in Fort McMurray.
Working with Jodi has been a great experience. We used Jodi two times when getting our mortgage, Jodi was knowledgeable, organized, and quick to resolve any issues that popped up. I would recommend Whalen Mortgages to everyone looking for a mortgage approval.
The most helpful women iv ever met helped me and my fiance buy our first home together! After trying another broker and a bank broker they wanted me to sign a contract which scared me to going back to the bank then I talked to Jodi who reassured me that there would be no obligation to stick with her if I was unhappy. Jodi got me the best mortgage rate and product available!
The bank made it a struggle, Jodi made it super easy! Jodi spent time going over things with me that I did not understand, I felt comfortable knowing she was helping me, not just out to make a sale. She is very trustworthy and helpful. 
You are picking a good, caring mortgage broker!
I didn't have a chance to meet Jodi but let me tell you I had faith and trust in her the whole way through!
Thank you again Jodi!
As a realtor in Fort McMurray for 9 years and have worked with a lot of different mortgage professionals and Jodi by far exceeds my expectations with any real estate transaction. She has her clients approved the fastest I have ever seen and she has exceptional communication skills. Jodi keeps you informed during your mortgage process, the communication is amazing. If you are struggling to get the mortgage approved, Jodi will make it happen. I highly recommend Jodi to anyone looking for a smooth approval.